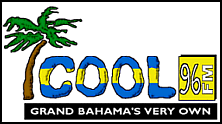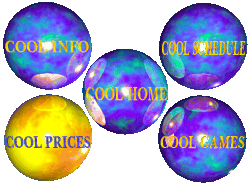 Don't Forget…
1. Recorded rates do not include $40.00 production costs.
2. There is NO additional cost for text writing or the complete marketing proposals.
We are happy to create something just for your business or special event.
3. Ask us about specially designed packages for your business or event.
4. There is a $15.00 charge for rotating spots within a package.
5. Independently produced spots must be up to a certain sound quality.
6. All advertising must adhere to the stipulations set forth by the Broadcasting Rules
and Regulations. Cool 96 will reject any promotion in breach of those guidelines
(we can clarify any questions you may have in this regard).
Contact Information
Cool 96 Sales:
telephone: 242-352-7440 or 351-COOL
fax: 242-352-8709
email: cool96@batelnet.bs
address: P.O. Box F-40773,
Freeport, G.B., Bahamas

Please send questions/comments/suggestions